You Can Stop Foreclosure and Save Your Home, and Here's How!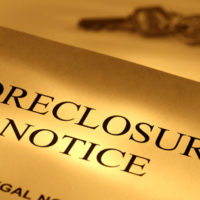 If you have fallen so far behind on your mortgage payments that you have received a notice of foreclosure, we understand that you may be feeling worried and scared about what foreclosure may mean for your future. While worry and fear are perfectly normal emotions to feel at this stage in your life, they will not help you save your home. What will help you save your home is a solid plan and a West Palm Beach foreclosure attorney.
Foreclosure is not final until it is final. What that means is that even if the bank has started the process, you still have a chance to save your home. At The Port Law Firm, we have helped countless individuals like you—individuals who fear they have no other option other than to let the bank take their homes—stop the foreclosure process and get on the path to financial freedom.
File for Chapter 13 Bankruptcy 
When you file for bankruptcy, an automatic stay will be put in place, which prohibits your mortgage lender from foreclosing on your home and being able to collect on your debt. Of course, the lender may try to have the stay removed. However, if successful, the lender cannot proceed with the foreclosure sale for another month or two, which leaves you plenty of time to discuss other options with the lender, your attorney, or both.
If you want to keep your home, it is imperative that you file for Chapter 13 and not Chapter 7. Chapter 13 bankruptcy basically restructures your debts so that you can pay them back over a longer period of time, and in lower amounts, so that your debt burden is so great each month. Chapter 7, on the other hand, is a liquidation bankruptcy. By filing for Chapter 7, you can stall the foreclosing of your home, but in the end, the bank will take it and sell it in order to collect what is owed to them.
Request a Loan Modification 
Most lenders do not want homeowners to foreclose on their homes, as they are hardly ever able to collect the full amount owed to them. Bearing that in mind, it may not hurt you to talk to your bank about a loan modification. Like bankruptcy, the request for a loan modification can halt the foreclosure process. Unlike bankruptcy, however, you cannot wait until the day before the sale to take action. In order to halt the foreclosure process, you need to submit your application at least 37 days ahead of time (CFPB). If your application is received 37 days prior to the sale and approved, you can stop the foreclosure for good. It if it is not approved by still received within the specified timeframe, the process at least bought you enough time to figure out a Plan B.
File a Lawsuit 
If the above two options fail, and if the lender pursues a foreclosure outside of the court system, you may be able to delay foreclosure by filing a lawsuit against the lender. If you want to prevail in your lawsuit and stop the foreclosure for good, you must be able to prove one of the following to be true:
The foreclosing lender does not own, or cannot provide proof of, the promissory note;
The foreclosing lender violated Florida's Homeowner Bill of Rights;
The lender failed to adhere to the required steps of both state and federal foreclosure processes; or
Made some other grave error.
If you win, you may be able to save your home for good.
An Experienced Attorney Can Help You Explore Your Options 
At The Port Law Firm, our West Palm Beach foreclosure attorneys have helped countless homeowners stall the foreclosure process, and many more save their homes. Receiving a foreclosure notice can be scary, but know that you are not without options. If you contact an experienced lawyer right away, you may be able to stop the foreclosure process and protect your rights to your home. Do not wait to get started, schedule your free consultation today.
Resource:
consumerfinance.gov/ask-cfpb/what-happens-after-i-complete-an-application-to-determine-my-options-to-avoid-foreclosure-en-1851/