Will I Be Forced to Liquidate My Business in a Florida Bankruptcy?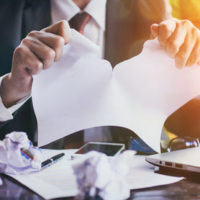 When you started your business, you put everything you had into it, including your blood, sweat, tears, and yes, money. After you opened its doors, you continued to pour your hard earned income into making your business bigger and better. A lot of small business owners do this—invest their own income into their small business. While this works out for some, it can bankrupt others. If you are at the point where you can no longer afford to pay your personal bills but you are still managing to keep your business afloat, you may be wondering, if you file bankruptcy, will you be forced to liquidate your business? This is a very real concern for many, which is why we are going to address it today.
A West Palm Beach Bankruptcy Lawyer Can Answer All Your Questions 
At The Port Law Firm, our bankruptcy attorneys are available to address all of your questions and concerns regarding your Florida bankruptcy. We understand that you may be feeling vulnerable at this difficult time in your life, and you may be worried about how you are going to provide for your family once your case is closed. If your biggest concern is for your livelihood, do not panic just yet. Just because you have to file for bankruptcy does not mean that you must liquidate your business. Whether or not you will be forced to liquidate depends on what type of bankruptcy you file for. For instance:
A Chapter 7 can only help you if you are a sole proprietor and have no real assets. Under a Chapter 7, you can wipe out all of your personal debt and use your exemptions to protect your business assets, thereby enabling you to keep it up and running. However, if your business owns non-exempt assets, the trustee might try to use them to repay your creditors, in which case, a Chapter 7 would not be able to help you.
If you file a Chapter 11, you are given the option to restructure your business so that your debt can be repaid over time. A Chapter 11 is very similar to a Chapter 13, except that a Chapter 11 is reserved for business entities only. While a Chapter 11 allows you to keep your business up and running, it is expensive and time consuming, and is really only ideal for larger corporations.
If you file a Chapter 13, you can reorganize both your business's debt and your personal debt, making this the ideal option if you operate as a sole proprietor. However, you cannot file a Chapter 13 if you are a partnership, corporation, or LLC.

When considering bankruptcy, it is important that you truly assess the value of your business. While it may seem like a good idea to keep your business running, if it is costing you more money than what it is making you, you may want to consider other options.  If you determine that your company does have value and you plan to continue operating, the bankruptcy courts may agree to not liquidate it. However, the bankruptcy trustee may determine that there are certain assets that should be liquidated to help you repay your creditors.
Work With a Compassionate West Palm Beach Bankruptcy Lawyer 
Bankruptcy is unique for every case, and whether or not you will be forced to liquidate your business in bankruptcy really just depends on a number of factors. While we would love to tell you that there are laws in place to protect small businesses from financial hardship, unfortunately there are not. However, that does not mean that you are without hope. If you have fallen on tough times and your business is the only valuable asset you have left, reach out to the West Palm Beach bankruptcy attorneys at The Port Law Firm today to discuss your options. Schedule your free consultation today.