What Does it Mean to Reaffirm Your Debt After Bankruptcy, and Should You do It?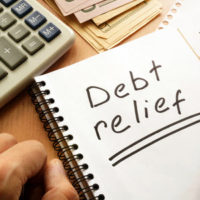 Filing for bankruptcy may be the best thing you do for your financial future, but depending on which bankruptcy you file for, you may lose everything that still has a loan attached to it. This includes your home and your vehicles. If you are in a situation where Chapter 13 is not right for you, but if you do not want to lose your home or other major assets, it may be possible for you to reaffirm your debt.
What Does it Mean to "Reaffirm Debt"? 
When you enter a debt reaffirmation agreement, you are essentially promising to repay a portion of a debt from which you have already been discharged via bankruptcy. For instance, if you filed for a Chapter 7, you have likely been discharged from all secured and unsecured debts, including credit card payments, car payments, medical bills, and mortgage payments. If you were to follow through with a typical Chapter 7, all of your assets would be sold to repay what you owed, including your home. When you choose to reaffirm your debt, however, you can recommit to the terms of a loan via a legal contract between you and the lender.
Should You Reaffirm Your Debt? 
If you have the means to repay your mortgage or car loan after discharging all other debts, reaffirming one or two debts may not be a bad idea, and here is why:
You should have an easier time meeting monthly payments. Without all that other debt hanging over your head, you should be able to make monthly payments on your mortgage or car loan with ease. This is assuming that your previous debt load consisted of thousands of dollars in other debts as well, and that bankruptcy freed you of most of it.
You can rebuild your credit faster. When you file for bankruptcy, your credit takes a huge hit. On top of that, you may be unable to get another loan for years, meaning you will not be given the opportunity to rebuild your credit for a while. However, when you reaffirm your debt, you are picking up an old loan which still counts towards your credit score, thereby affording you an opportunity to rebuild your credit more quickly.
You can secure your current interest rates. Post bankruptcy, you may find that it is difficult to secure a loan with reasonable interest rates, especially on a new home. If you want to secure the interest rate you got on your mortgage loan back when your credit score was 800, reaffirming your debt is the best way to do so.
Though debt reaffirmation comes with many benefits, it does have its pitfalls. For instance:
Your possessions may not be worth it. Before you decide to reaffirm your debt, you need to be sure that your possessions are really worth it. Cars, for instance, depreciate as soon as you drive them off the lot, and what may have been a $25,000 vehicle may now only be worth $5,000. If you owe more on your car than what it is worth, you may want to reconsider picking up your old car loan. Additionally, if you are underwater on your mortgage, you may want to call it a loss and start over.
There is still the potential for default. Once you reaffirm a loan, there is no undoing it. While bankruptcy law does not specify how many times an individual may file for bankruptcy, you risk losing the opportunity to ever discharge debt again if you file too soon after wiping out debt in a previous case. If you default on your loan a second time around, there is a good probability that the lender will repossess your item and sue you for the full amount owed.
Do Not Proceed With Debt Reaffirmation Until You Have Spoken to a Bankruptcy Lawyer 
While reaffirming your debt can be a great way to relieve yourself of the majority of your debt and still keep your most valuable possessions such as your home or vehicle, it does come with a few caveats. The best thing you can do is to consult with one of our West Palm Beach debt relief attorneys at The Port Law Firm prior to making any definite decisions. To schedule a free consultation today, call our office or contact us online.
Resource:
law.cornell.edu/uscode/text/11/362